Kansas State Sporting Clays Championship 2021
June 24-27 @ Powder Creek Shooting Park
What am I volunteering for?
Powder Creek Shooting Park is hosting the Kansas State Sporting Clays Championship for the first time. This event will draw shooters from around the country and state and needs a monumental effort from many volunteers to ensure the event is a success. Powder Creek has generously supported our shooting sports events and teams for years and this is a great opportunity to give back to them through our volunteer service. We need volunteers to pull targets and record scores at each of the shooting stations over the course of the 4 day event.
Volunteer Responsibilities
Provide amazing customer service to the shooters particiapting in the event
Pull targets (push the button on the target thrower when the target is called)
Call hits and misses and record on the score sheets
Contact a Course Manager if there is a problem with the machines
Keep a safe and orderly flow of shooters through your station
Volunteer Requirements
Watch a training video to learn the rules and understand your responsibilities
Great Customer Service Attitude, be happy, be energized, be helpful!
Focus on the task. Pay attention to the targets and the clients, don't play on your phone
Show up on time (30 minutes prior to your scheduled start time), check in, stay on station through the shift you committed to, check out before you leave
Have Fun! You are going to meet and watch some of the top shooters in the region
Introduce yourself, talk to them, watch and learn
The event is outdoors and will be held rain or shine. Be prepared for rain, sun, bugs,etc.
Eye and ear protection are required. Bring your own if you have them. Safety glasses and ear plugs will be provided if you need them. Regular prescription glasses or sunglasses work fine
Minimum age is 11 years old, must be responsible and possess the maturity to perform the task
Volunteer Benefits (what's in it for me?)
Lunch will be provided if you volunteer two shifts or more per day
Free Ticket to the Saturday Night Social - Free food, free drinks, Gun giveaways (must be present to win)
25 targets earned for each hour of volunteer work
1 gun ticket earned for each shift worked. Two guns are being given away exclusively to volunteers at the end of the event. An adult will have to receive the gun on behalf of a minor.
Volunteer Hours Verification Certificate provided for community service hours
Special Prize will be awarded to the group with the most volunteer hours
Volunteers may participate in the shooting events but the volunteer will need to register and pay their event fees
Recieve eternal gratitude from the Powder Creek staff and event organizers
Questions?
Contact BJ Powell | 402-429-1166 | coach.bj@kccrushers.com
Volunteer
Volunteers will be assigned a station to start and will rotate to a different station each hour
Select which shifts to work for each day. You can work just a single shift or multiple shifts
Time noted is when you need to be on station, ready to go.
Please arrive 30 minutes prior for check in and station assignment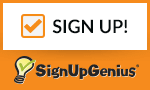 Want to join the Crushers?
We're no longer accepting applications for the 2021 season. If you'd like to join the waitlist and be notified when the next season opens, sign up now.
Stay in the loop!
Enter your email to get notified of upcoming competitions, recent competition results, and club news and meetings.